iKapture Centre for Development is hosting the 2020 Digital SkillUp Summer Bootcamp. The bootcamp is a 4-week intensive and immersive tech program designed for kids and teenagers who want to gain digital skills. Participants learn how to code and use app builders to create their own apps. Other courses offered include, graphics design, and life skills including self-awareness, communication, leadership and teamwork.
We live in a fast-changing world, with advancements in science and technology, machines and artificial intelligence are fast replacing conventional jobs. It has become imperative that the education sector offers more than just certificates. The future is digital and for anyone to meet up with it's standard; they must have certain digital skills. There is critical need to produce a generation of thinkers and problem solvers. The best time to learn those skills is now and we are committed to bridging the gap between the societal demands and young people by equipping them with the skills and values to tackle today's challenges and ready for tomorrow's aspirations.
After completing the program, students join a growing alumni network for career support and community. They have access to mentors to further develop their skills.
What kids will learn
Programming: Python, HTML/CSS, JavaScript
App Builders: App Inventor, Thunkable, Scratch
Graphics design
Microsoft Office
WordPress
Use of Social Media
Explainer Videos
Vision Boarding
Life Skills
Who is this for?
Open to African kids and teens between 5 and 16 years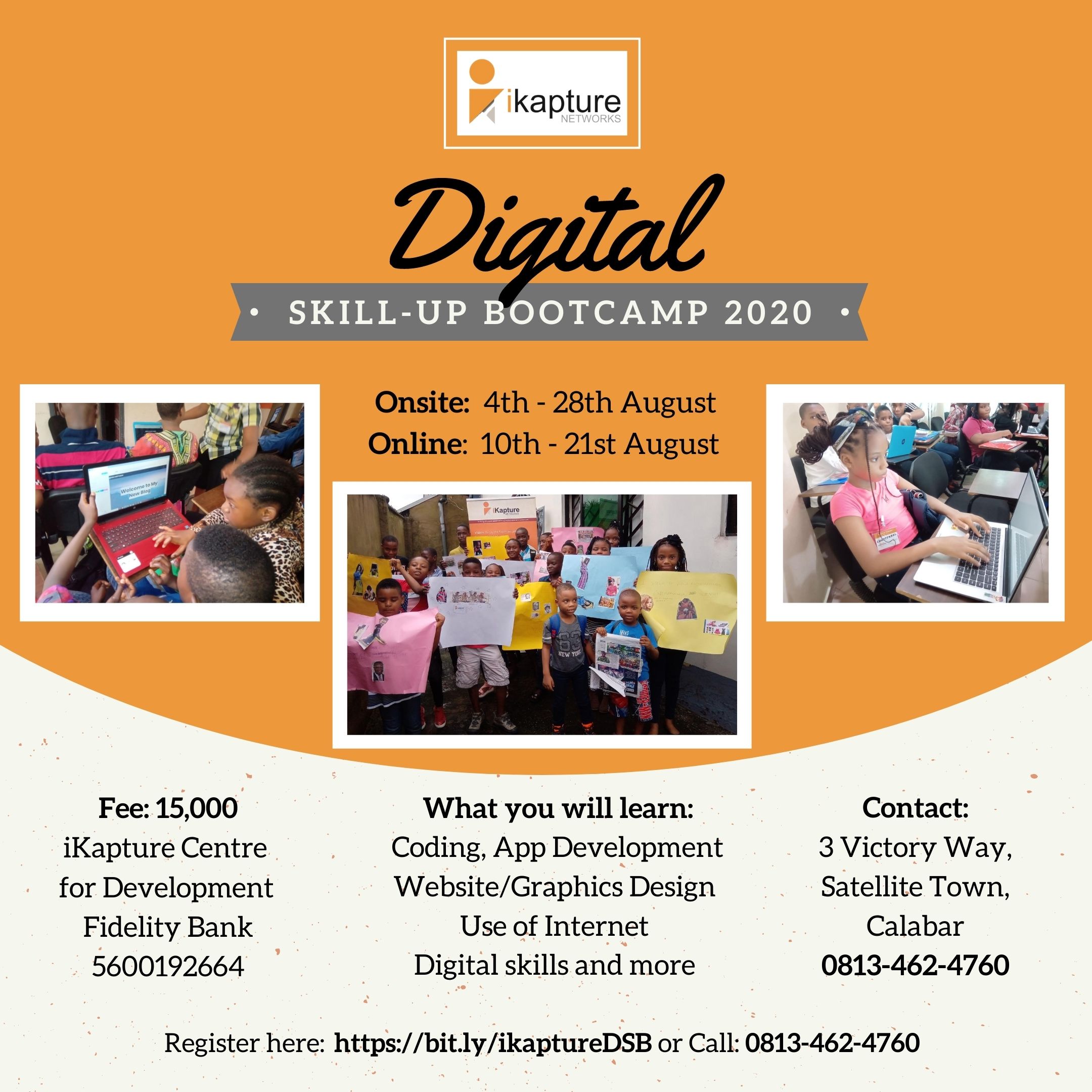 Program Details
This program adopts a practical approach, which is structured to take place within the period of 4 weeks.
Onsite:
4th – 28th August 2020
Monday – Friday
9am – 2pm daily
Online:
10th to 21st August 2020
Monday to Friday
3pm – 6pm daily
Program Cost
This fee per participant cost #15,000, which covers facilitation, training materials and certificates.
How to Register
Visit: bit.ly/ikaptureDSB
Pay to:
iKapture Centre for Development
5600192664
Fidelity Bank
Call 0813-462-4760 or 08090970206 to confirm payment and secure your spot.