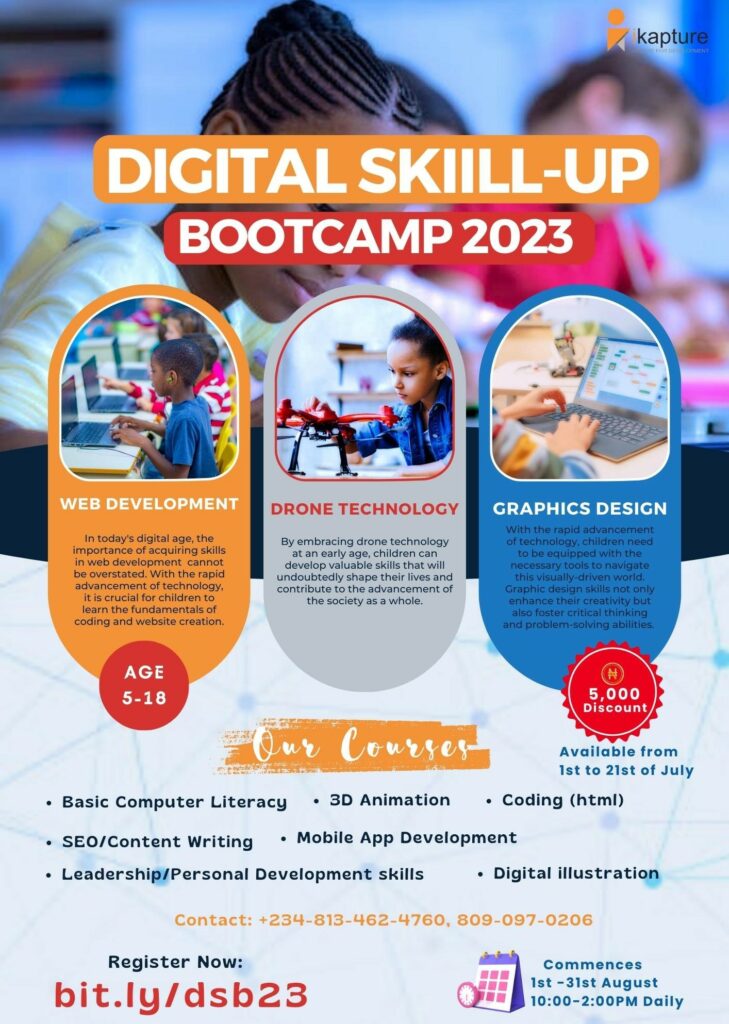 iKapture Centre for Development welcomes you to the 2023 Digital Skill-Up Bootcamp (DSB). The DSB is a four-week intensive and immersive tech program designed for kids and teenagers (between the ages of 5 and 18) who seek to enhance their digital skills. Participants will be exposed to not just coding and mobile app building but to drone technology, whiteboard animation, soft skills (such as self-awareness, communication, public speaking, and teamwork), and much more.
After completing the program, students join a growing alumni network for career support and community. They have access to mentors to further develop their skills. The following will be covered by our digital programs:
Basic Computer Literacy
Programming: HTML
Graphics Design
Mobile App Development
Web Creation and Management
Copywriting/Content writing
Search Engine Optimization (SEO)
Drone Technology
Whiteboard Animation
Digital Illustration
Soft Skills
The 2023 DSB programme is scheduled as follows:
Duration: 1st to 31st August 2023
Time: 10.00 am to 2:00 pm (daily from Monday to Friday)
Venue: iKapture Centre for Development, 3 Victory Way, Unical Satellite Town, Calabar, CRS, Nigeria.
Enrollment Fee: NGN 30,000 Only (This covers facilitation, training kits, and certificates)
Discounted rate for 'Early Birds': NGN 25,000 (This expires on the 21st of July 2023)
Please note that the DSB programme will be conducted both in-person and virtually.
Do not miss out on this golden opportunity to engage, equip, and educate your wards!!!
Click here to register for the programme.
You can also keep in touch with iKapture's progress of events through our social media handles stated below:
Facebook: ikaptureCentreforDevelopment
Instagram: : ikapturecentre
LinkedIn: iKapture Centre for Development
Stay tuned for our latest update.